Wedding Favours

The Vintage Teapot can supply some beautiful and unique wedding favours for your vintage style wedding. The price list below gives you an idea of prices, it is not exhaustive and if you would like something different to the items listed please get in touch.
To order favours for your wedding please contact us using the enquiry form on the website, or e-mail [email protected]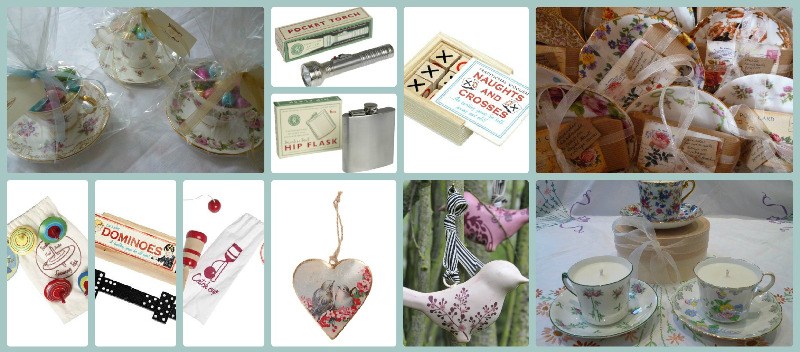 Wedding Favours - Prices

All orders of over 21 to 50 favours will receive a discount of 10%
Orders of 51 or more favours will receive a 20% discount

Scented teacup candle in a box £12
Scented teacup candle in cellophane £11
Scented teacup candle unwrapped £10
Teacup and saucer with 10 milk chocolate hearts £10
Teacup and saucer with 10 mini tubes of love heart £9
Handmade soap on a vintage saucer £6
Vintage style tin containing chocolate hearts £5
Vintage style tin containing love hearts £4.50
Hanging hearts £3.75
Handmade chocolate bar with ribbon and tag £2.20 each
3 handmade chocolate bars tied with a ribbon £5.50

Men
Hip flask £9
Torch £5
Keep calm and carry on playing cards £2.50

Children
Vintage style snap cards £2
Heads and tails game £3
Wooden dominoes £3
Catch cup game £3
Picture dominoes £4
Spinning tops £3
Naughts and crosses £4
Tags and ribbon can be added for 30p per item. Small items can be wrapped (to include ribbon and tag) for £1 per item.